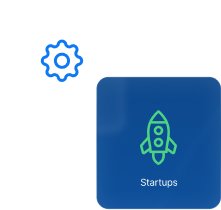 Seamless tools to manage your startup accelerator
Join Vestbee and get access to free startup accelerator management
tools, high-quality deal flow, our wide community of VC funds, startup
perk package and marketing visibility!
Sign up to get started
We care about the protection of your data. Read our Privacy Policy.
Trusted by




Everything you need to seamlessly manage your startup accelerator, open calls and innovation programs
Supercharge your startup program with seamless tools to collect applications, evaluate candidates and match them with mentors and investors easier and faster than ever before.
Powerful Customized Forms
Create powerful forms that convert and run your application process effortlessly
Multiple Programs
Launch and run multiple startup programs at the same time
Unlimited Collaboration
Collaborate with your team, advisors, mentors and investors
Application Performance Tracking
Track and analyze application performance and set up automated reminders
High-Quality Startup Deal Flow
Get access to curated deal flow and improve quality of your startup applications
Virtual Showroom
Share your startup cohort with mentors, judges and investors with just one click
Startup & VC Community
Leverage our international network to add value to your accelerator
Best Startup Deals
Get unique startup perks and special discounts for your portfolio
Visibility Boost
Get featured and increase your reach among startups, VCs and tech community.